Midland Metocs Mini Reunion
Meeting confirmed at Grange Farm Pub, Oadby, Leicester from 11:00 on 23rd Nov.2019, lunch table is booked for 13:00 for 12 people, please let Ash Price know if your can't make it, so he can get the table sorted. Use the Midlands Metocs Facebook page.
All welcome to drop in for a chat, drink, meal etc so why not come and join us.
Radio sonde 2017 style
Here we have a video of a container ship, a big brutish, frankly ugly container ship. She is westbound from Liverpool to Halifax NS and enroute launches radiosondes. Have a look at the video from 4:09 onwards to see how they receive weather information and generate their own. How easy it is now!
Remembrance Sunday 2019 reminder
There is a time limit to submit your personal details to the British Legion If you want to take part in the Service and Marchpast at the Cenotaph in London 2019.
If you have ever thought of doing it then now is the time to apply, the marching (FAA Shuffle) is not too taxing and the distance is not too long. What might tax some is the three hours or so of waiting around on Horseguards Parade and Whitehall. After the marchpast we proceed to the Fleet Air Arm Memorial on the Embankment for a short service (5 minutes max) and the laying of wreaths. The service concludes with a song, you will know it, sung by the FAA Field Gun Crew Association. It is then off to find refreshment in whatever form is your choice.
Interested? then please contact the Secretary ASAP.
I will see you there
Arthur (Charlie) Charles
Duty Forecaster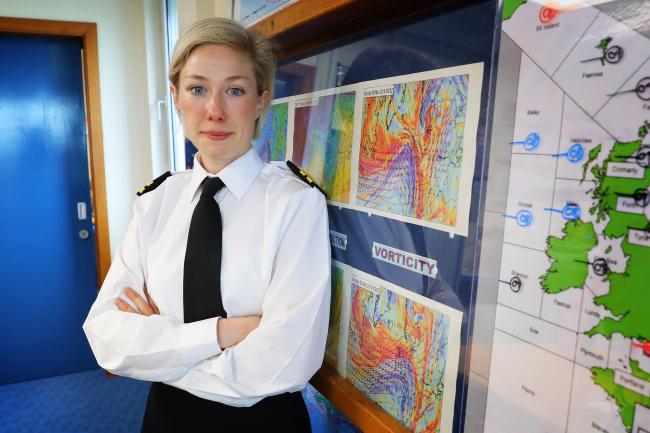 An article on the Culdrose (03809) Met Office and 2 i/c Lt Francesca Allen appears in the local Falmouth rag. Full article can be read here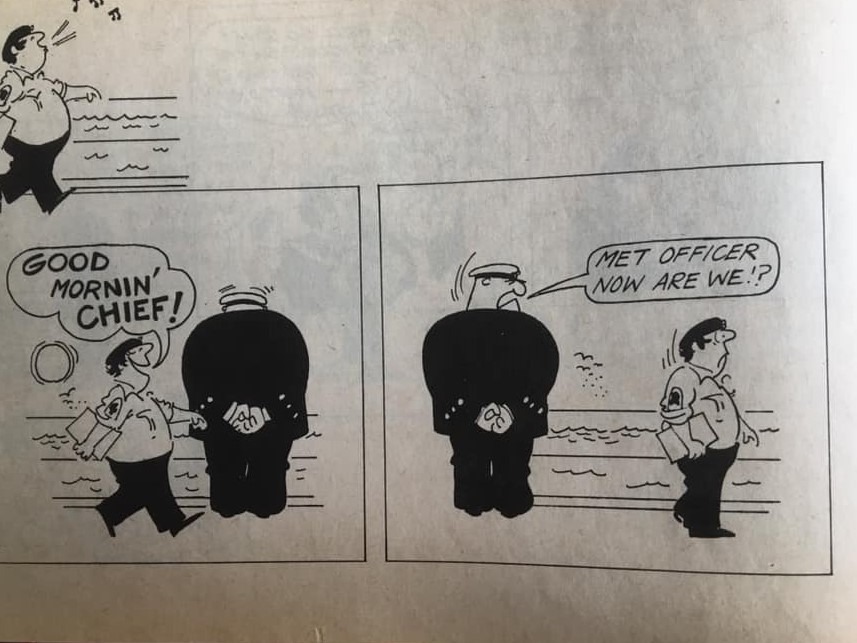 Remembrance Sunday 2019
Every year, the Legion calls on the nation to unite in commemorating Remembrance Sunday.
On Sunday 10 November 2019, the National Service of Remembrance will be held at the Cenotaph on Whitehall, London.
Starting at 11am, the service will commemorate the contribution of British and Commonwealth military and civilian servicemen and women involved in the two World Wars and later conflicts.
Cloud Observers has requested 10 tickets for this event and will march along with other Fleet Air Arm Associations in the Fly Navy Column.
If you want to take part then please contact the Secretary ASAP.
David Strike Diving in Australia
Pussers Tilley
Those who know me will know that I dabble a little in Model Railways.
Whilst looking for suitable vehicles I came across this model of a Bedford Tilley and so memories of transport to and from the Tower
and other such journeys sprang to mind. Would anyone like a model section on the Website?
Latest finds are two Pussers Landrovers, a long wheelbase Station Wagon and a Short Wheelbase varient that were often found on the carriers.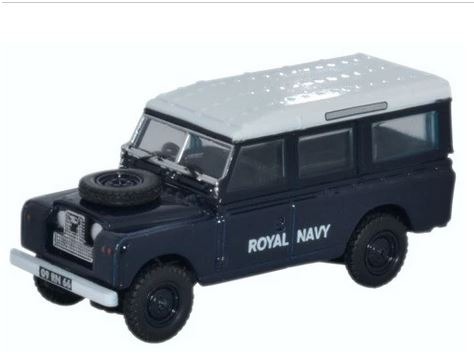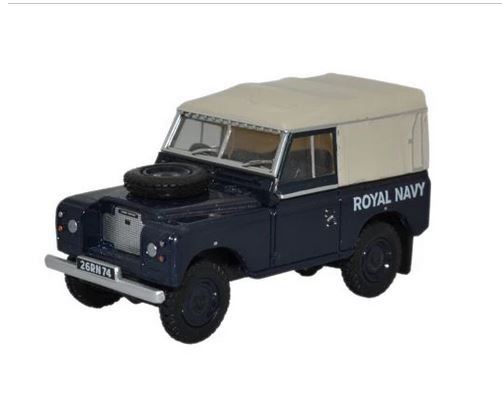 The Sea Harrier watch, and a link to get 'expressions of interest' before they go to production – it is already attracting a lot of attention.
Expressions of interest can be logged here:
This is non-committal, but will start the production phase once they have 100 registered.
Dockyard Dandy
Flight Deck
New Book - Forgotten Few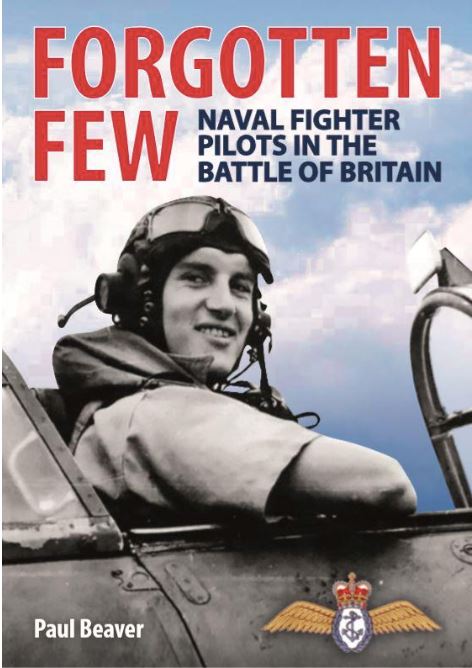 Members of the association might be interested in this new book. The Battle of Britain seems endlessly fascinating for the British public, but it's nice to discover, and acknowledge, the Fleet Air Arm contribution. Old story, new twist with a 15% discount for all Cloud Observers on the book price and anything else that you order.
You should get an email with the discount code, if you do not receive it then Contact Us and we will get back to you.
Return of the Wessex
This magnificent aircraft took to the skies a few days ago.
Military ID Cards Now Available To Veterans
Some veterans will automatically be given one of the new cards, with all former personnel being able to apply for one by the end of 2019.
This is THE definitive source of information on all FAA units represented by the 700 or 800 series (including Dutch, Australian and Canadian units using those series). First published in 1994, it has recently been thoroughly revised and brought up to date and includes much information that has not been previously published anywhere.
This book has been a labour of love for the authors and they believe that the wealth of information that it contains should be kept for posterity. I'm sure it will be of interest to anyone with a connection to the Fleet Air Arm.
The publishers, Air Britain, are a charity who specialise in publishing books that keep important niche information alive. Both they and Navy Wings want to make it as accessible as possible, so there is a special price exclusive to Fleet Air Arm Association members.
The RRP is £44.75, but the FAAA member's price is just £34.95 if they enter a code at checkout. If you have not received an email with the code then contact the Secretary.

CanYou Help?
Dave Castle are you out there? Taff Jones is keen to contact you.
If anyone has any info on Dave can they please let us know privately through the Contact Us page.

Forces Discount Card
Your discount card to flash wherever you go. Only £4.99 for five years so why not apply today for all year round discount opportunity?



Remembrance Sunday 2018
FAA Memorial gathering 2018 London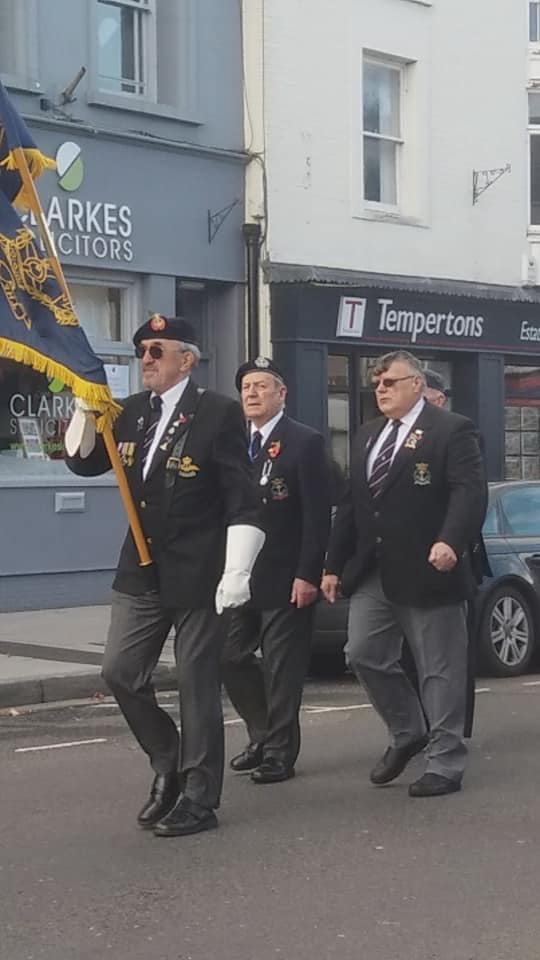 How Long?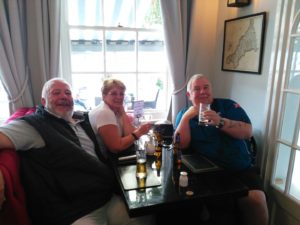 Mike & Liz Wright with Bungy at Bude 44 years since Bungy was best man at their wedding.
Bungy will be parading the Bude Royal Naval Association Standard again this year as he works towards 30 years as a Standard Bearer.
Up North
From Brian Gleeson
In early June Denise and I went to southern Norway with Fred Olsen cruises on Black Watch to 03005 (very windy and boring) then Bergen, Flam and Olden all fabulous we had a great time with beautiful weather and more importantly the free drinks package !!!!!!!!!!!!!!!! Our final cabin bill for the trip being. £25
Never happen again I'm sure !!
On the next table to us in the dining room we met former Met Wren Barbara Spraggs as was (she apparently was one of the famous/infamous Halfa bunnies in 1965 !! Just had to have a piccy.
Such a strange world and life is so strange at times.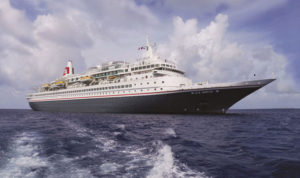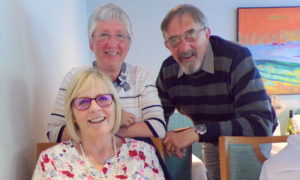 And it wouldn't be pusser without one in the Nozz ones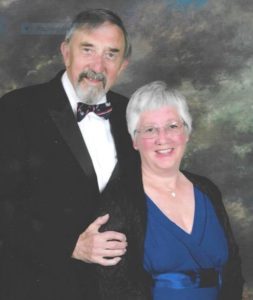 Brian features on this page and also the Remembrance page as a Standard Bearer.
Dining with Divers
On the face of it the book, Dining with Divers has little to do with Cloud Observers however, one of the divers and co author of the book is non other than David Strike.
David had an interesting career as a Stoker then diver before training in Met. I served with David on HMS Albion 68-69 Far East Commission.
David continues to dive to this day, tells a good yarn and is a bit of a celebrity down in OZ where he is based and elsewhere.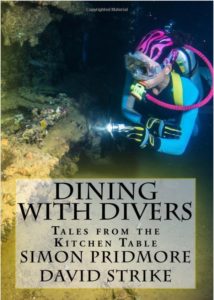 So here is a book, available on Amazon, that is not Met related but is scribbled by one of ours. Please excuse the blatant plug.
Dining with Divers Second Helping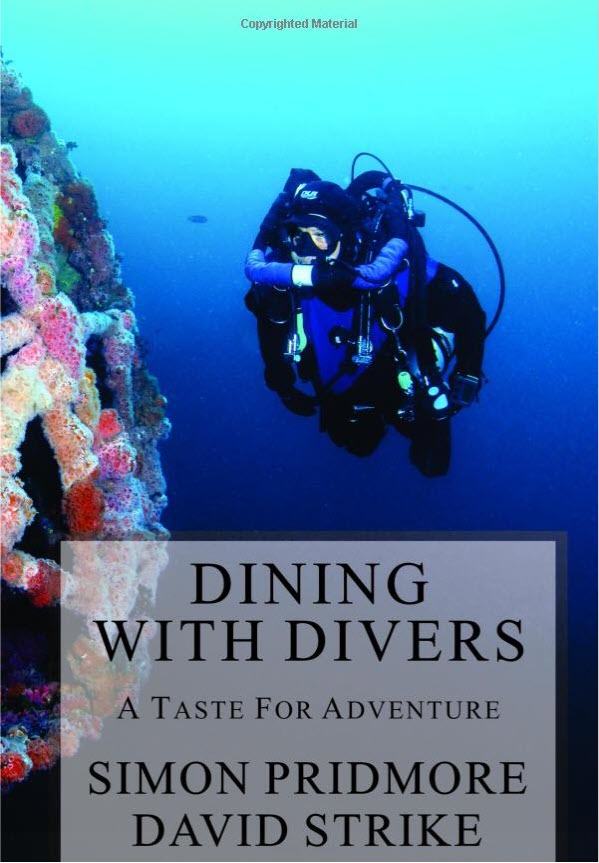 One of technical diving's acknowledged pioneers and a leading force in bringing about its widespread acceptance and growth, Captain Bret Gilliam - as the opening contributor to Volume Two of, 'Dining With Divers: A Taste For Adventure' - describes memorable encounters with humpback whales before sharing a recipe taught to him by:
"... an old lobsterman who was legendary for his skills, who taught me the proper way to cook lobster "shore bake" style. ....
"His counsel proved wise in all regards and I still cannot imagine a better way to eat lobster than on the beach in Maine with butter running down your arms and a pile of shell litter accumulating at your feet. "
Just one of the many great stories and equally satisfying recipes and meal ideas in the newly-published, 'Dining With Divers: A Taste For Adventure', compiled by Simon Pridmore and myself and now available through Amazon stores worldwide.
The ideal Christmas gift for divers, non-divers, and everyone who appreciates a good story and a good meal in sparkling company, hard-copies and e-book versions of both books are now available through Amazon stores
---
---
Facebook Group
Ashley Price has set up a Facebook Group for all Midlands Metocs. Looking to add a few more members. Click on the picture to visit the page.

---

Yes folks Steve Howard is off on his travels again. As part of his preparation he has rebuilt his Travel Blog. For those of you who are not up to speed with Blogs, why should you be? A Blog is a techy term for a website that has pages as paragraphs but also contains pictures, links and videos. In other words its an electronic book or story thats been americanised!
Anyway just click on the banner above to visit Steve's Blog (website) where you can read about his trips to the US of A and Turkey. There are lots of photographs and videos taken by Steve and Rosina to keep you entertained and informed.
You will also be able to follow the intrepid pair on their current travels.
Bon Voyage!
---
---
Downloads are also on the following pages
---