New for 2018
Dining with Divers
On the face of it the book, Dining with Divers has little to do with Cloud Observers however, one of the divers and co author of the book is non other than David Strike.
David had an interesting career as a Stoker then diver before training in Met. I served with David on HMS Albion 68-69 Far East Commission.
David continues to dive to this day, tells a good yarn and is a bit of a celebrity down in OZ where he is based and elsewhere.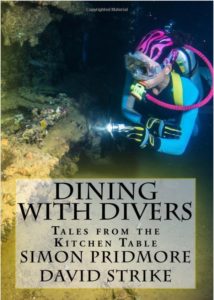 So here is a book, available on Amazon, that is not Met related but is scribbled by one of ours. Please excuse the blatant plug.
!
Exclusive FAA Watch by Elliot Brown
An exclusive FAA Watch only available to serving and former members of the FAA.  Priced at £495 it is hoped that it will appeal to those who would wish to celebrate their service in the FAA with a quality time piece but perhaps could not afford or justify the expense of previous watches supplied by Breitling and Bremont.  For every watch sold Elliot Brown will donate £50 to FAA charities, FAA Benevolent Trust and Navy Wings.
The following link http://www.elliotbrownwatches.com/FAA will provides further details and offers the opportunity to provide an 'Expression of Interest'.  In order for the watch to go into production 300 expression of interest are required. The watch will be personalised with the owners name and number on it.

Singapore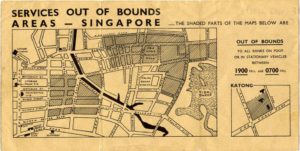 Now here is a useful document from the 1960's although I personally never came across one, or felt the need?
Half the fleet were Singapore based in the 60's with one fixed wing and one commando carrier usually on station
to support these ships and the rest of the fleet a weather centre was based at COMFEF.
There is a web site full of pictures from this era, some very colonial in flavour.
Take a look at http://www.singas.co.uk
At Christmas and other times it was nice for the lads on the ships to be invited "Up Homers" by the staff of COMFEF.
Whilst serving on HMS Albion I remember the generosity of Bogey Knight and Tim Preston whos families shared their christmas
with us, not forgetting me shipmate of many years the Phot Fred Jones.
Pussers Tilley
Memories closer to home were stirred as well this last week. Those who know me will know that I dabble a little in Model Railways.
Whilst looking for suitable vehicles I came across this model of a Bedford Tilley and so memories of transport to and from the Tower
and other such journeys sprang to mind.

Remembrance Sunday 2017
The Association of Wrens had a healthy attendance at this years parade in London and many members of Cloudobservers turned out to support their local events. We have a picture of John (Bungy) Williams with his Standard at Bude, some footage of Andy Hales marching with the FAA Field Gun Association in London and footage of the BBC piece on Cloud Observers featuring Arthur Charles.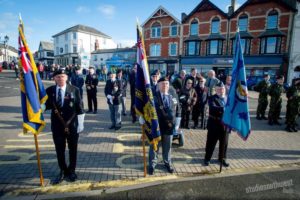 This is the latest picture we have of Brian Gleeson, not 2017 however, if you have any pictures of Remembrance events we will be happy to feature them here.


WRNS 100
The Events organised by WRNS100 are for all ex-wrens and those still serving, it doesn't matter when you served or what as. It doesn't matter which if any association you belong to, if you spent time in a blue suit then these events are for you and 2017 is our year!
This is the message broadcast loud and clear on a new website specifically set up for the WRNS 100. This is the site to visit if you want to see what is going on and where this year. Click on the banner below to visit the WRNS100 Website.
Below you will find a few the downloads including the Commemorative Stone Appeal and part one and two of our own tribute.

Navy Wings Christmas Cards
Here is a preview of the 2017 Christmas Cards available from the Navy Wings website.
All profits go towards keeping the magnificent heritage aircraft airborne.  As many of you will be aware, the Sea Fury is back flying again, which is a magnificent achievement. Click on the picture to purchase the cards.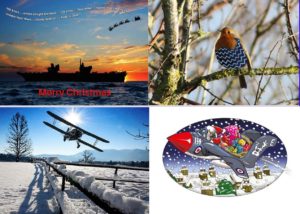 Wings over Glasgow
Douglas Rough, a Fleet Air Arm Historian is writing a book called 'Wings over Glasgow' that includes the history of RNAS Abbotsinch/HMS Sanderling, can you help please? Douglas is looking for information and images relating to aircraft, gliders, buildings and people that were there from WW2 until the base closed in 1963? Does anyone recall the crash of a glider that killed Lieutenant Commander Kenneth Charles Winstanley in 1948? The 54 Sqn Tempest II crash in 1946?
If you hserved ther or have memorabilie then please contact the secretary so we can put you in touch with Douglas..
RNAS Anthorn, HMS Nuthatch - Proposal for a Memorial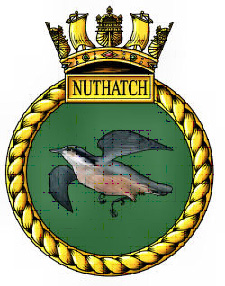 The Anthorn Community Association proposes to set up a memorial to personnel and families who served at the Royal Naval Air Station Anthorn, HMS Nuthatch, on the grassed triangle in front of the original main airfield gate, using a local "Erratic" stone (murrain boulder) with an illustrated plaque.
December this year, 60 years since the last official flight from the airfield, is our first target date for an unveiling, with a secondary of March 2018, 60 years since closure and decommissioning of HMS Nuthatch.
With support from the Royal Naval Association and local authorities, memorial unveiling is planned with a parade including Veterans, Sea Cadet Corps and Air Training Corps.
Solway House Airfield betwixt Anthorn and Cardurnock was initiated by the Royal Naval Air Service in early 1918 but lapsed after WW1 and the amalgamation of the RNAS and RFC to become the RAF. At the start of WW2 the RAF restarted the grass airfield site as a satellite to RAF Silloth. Back under Admiralty control in 1939, the Fleet Air Arm commenced lodging here in 1940 and fully took over the site in 1942. Subsequent to completion of the 3 hardened runways, RNAS Anthorn was commissioned as HMS Nuthatch in 1944. It was primarily the base for No.1 Aircraft Receipt and Despatch Unit, taking aircraft from manufacturers and preparing them for service by fitting role equipment, radios, guns etc. Various Naval Air Squadrons operated from here as well as one of the first helicopter Search and Rescue units.
Most of the houses which make up main residential part of the village of (new) Anthorn were were constructed in 1952 as Married Quarters for personnel of the Air Station.
The Air Station shut down in late 1957, decommissioned and put to "Care and Maintenance" in early 1958, subsequently the MOD/NATO VLF Radio installation commenced in 1961 becoming operational in 1964.
Since 2007 the National Physical Laboratory (MSF) Radio time pips have been transmitted from here.
Contributions of stories, photo's and/or memorabilia would be appreciated, especially from those who were based or worked at the Air Station (or their descendants). Contact given below.
Fundraising events will start soon.

---
Last year the 2Xisles team conjoured up a couple of Quiz's to keep our brains functioning over the festive season. Look out for something similar arriving in late 2017.
---
New Facebook Group
Ashley Price has set up a Facebook Group for all Midlands Metocs. Looking to add a few more members. Click on the picture to visit the page.

---
Look Back to Summer
War comes to Bude 2017 was a large and sucessfull event for this popular seaside town.
Readers will already know that John (Bungy) Williams hails from there along with a few other Cloudobservers.
Bungy's RNA Stand. Along his popular Tot Gear (All genuine and in regular use) Bungy displayed, with a little help from head office, the weather charts and story for the D Day landings.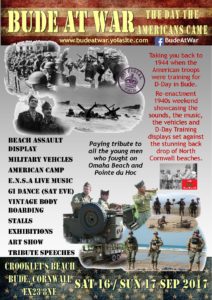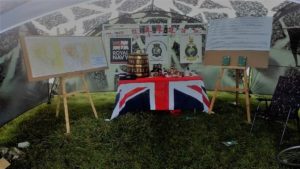 ---
Navy Wings
Navy Wings was launched by the FNHT (Fly Navy Heritage Trust)at Yeovilton Air Day, with the assistance of the author Frederick Forsyth.Navy Wings is an exciting development, which brings together the aircraft of the RNHF (Royal Naval Historic Flight) with civilian owned historic naval aircraft, ranging from biplanes to helicopters and the iconic Sea Vixen.
A brand new website www.navywings.org.uk has been launched, and all are requested to add a link to this on their own web pages or a like on Facebook, mention on Twitter etc would help. The FNHT website now only redirects to the Navy Wings site.
Good support for Navy Wings is essential for keeping the histori flight aircraft airborne as MOD funding reduces. Please encourage everyone to look at the site and to sign up as supporters if they are not already.

---
Combined Reunions Update
Both the SE (RNSESA) and Phot (RNPA) Associations have agreed to go ahead with Joint Reunions. The First combined reunion will be in 2020 in Bristol hosted by the RNSESA.
---
Wrens Reunion May 2016 Helston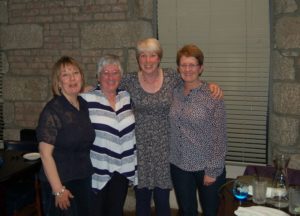 The picture shows two thirds of the June 1976 Wrens met course.They signed on at Dauntless on 11th May 1976 prior to joining the school.
L to R Caroline Bennett(nee Roberts) Denise Gleeson (nee Bucknall) Pamela Jamieson (nee Betts)Alison Wilde (nee Rowe)
A most enjoyable time with non stop remembrances of their time in the WRNS. They were also joined by Sheila Ashby and Caroline Reps(nee Hill)so a superb time with very special company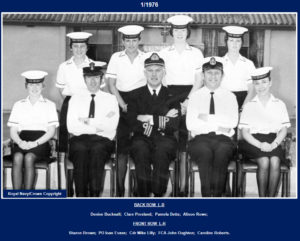 ---
HMS Curlew St Merryn 1950's
Does anyone remember a Wren Molly Atkin in the Met office1953 to April 1954? We were originally told that Molly served at Culdrose but her service records show as St Merryn.
Her Grandson is researching family history so would welcome any memories that you may have. If you know anything about Molly or even the workings of St Merryn (HMS Vulture 1940-1953) in the 1950's then please contact the webmaster.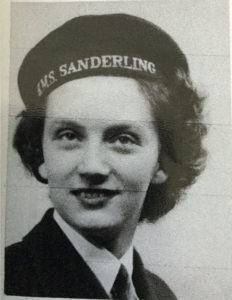 ---
---
---

Yes folks Steve Howard is off on his travels again. As part of his preparation he has rebuilt his Travel Blog. For those of you who are not up to speed with Blogs, why should you be? A Blog is a techy term for a website that has pages as paragraphs but also contains pictures, links and videos. In other words its an electronic book or story thats been americanised!
Anyway just click on the banner above to visit Steve's Blog (website) where you can read about his trips to the US of A and Turkey. There are lots of photographs and videos taken by Steve and Rosina to keep you entertained and informed.
You will also be able to follow the intrepid pair on their current travels.
Bon Voyage!
---
Navy Books
The latest catalogue from Navy Books contains a good selection of FAA/Aircraft Carrier books, some at bargain prices. HMS Hermes 1923 & 1959 a snip at £7.99, the younger brigade will be tempted by Harrier Carriers: HMS Invincible at a mere £4.99 and for the older reader there is The Colossus Class Aircraft Carriers 1944 -1972 only £7.99.
Their website can be found at http://www.navybooks.com/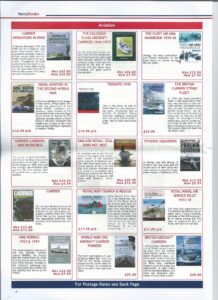 ---
Halfar and Kete memories
Brian Collins was a Killick Met in 1958, he was drafted to Halfar 1958-1960. Brian tells us that G A Bell, Bryn Telfer, John Randel, Pete Rossington, Dereck Marshall were some of the ratings that were also there during that time. The American base was down the road going towards Birzebuggia and they used to get all their flight briefings from us.
Brian trained at Kete in 1956. Pete Rossington was the kellick there at that time. The male ratings were outnumbered by Wrns, something like 2 to 1. You didn't have to wear your hat unless there was a reason to do so Divisions on a Friday was to the accompaniment of a record playing. The roofs of buildings were held down by ropes tied to metal spikes either side of the building.
On completion Brian joined the cruiser HMS Superb at Chatham, that went to the East Indies and was involved in the Suez Crisis The MET officer on board was LT Cdr Adams. Brian returned to Kete again at the end of 1957, that was when they were wanting ratings to change from other branches to MET.
All this history came about because the Halfar page contained errors which just goes to show how important it is to record facts before they are lost. If you have an anecdote about the branch then please get in touch. We do not guarantee it will be published, indeed some of the best material is from someone called anon. When we ask questions about the Met Branch the usual reply is...We were going to ask you!
---
---
A Christmas Chart
Here is a blast from the past in more ways than one. Members who worked East of Suez, afloat or in COMFEF will be reminded of times past by this one. Here we have a Double sided Met Chart, B148 India to New Guinea. The chart is blank on one side but plotted and drawn up on the other.
The chart is valid for 0001Z (0730 Local time) on 24th December 1964. It was plotted on board HMS Victorious when alongside the Singapore Naval Base for the Captains briefing. The neat plotting was probably the work of Tim Preston, the Christmas artwork by yours truly.  By the spread of the synops it looks like a COMFEF Fleet Broadcast was used.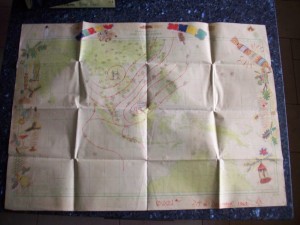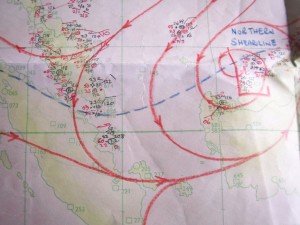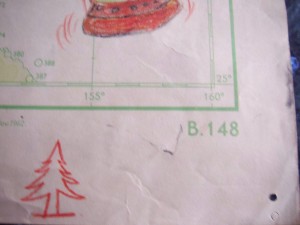 ---
---
---
FAA Watch Offer
BREMONT FLEET AIR ARM SPECIAL EDITION WATCH. This is a unique opportunity to purchase an exclusive high-end timepiece, celebrating the Royal Navy's finest fighting arm. In support of the Fly Navy Heritage Trust, Bremont have developed a version of their U2 Watch which has a blue strap and face, with the FAA Wings and a subtle FAA Zig-Zag engraved into the face. There is also a choice between a blue or a green (for the Junglies amongst you) barrel. This watch is only available to Serving FAA members and FAA alumni. To maintain this exclusivity, proof of service will be required before the order is confirmed and the purchaser's official number of up to 8 characters will be engraved on the back. Orders are direct to military@bremont.com . More details are attached and available at http://www.fnht.co.uk/bremont-fleet-air-arm-special-edition-watch.html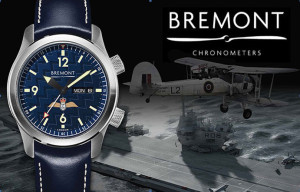 ---
Dockyard Dandy
Here is a link to the online versions of Navy News for september, October, November and December 2016.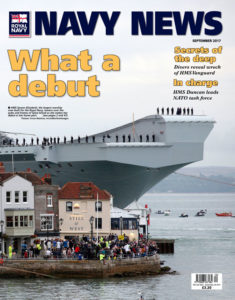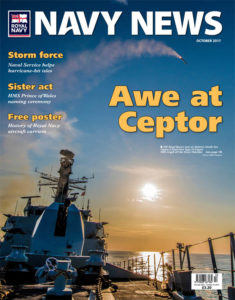 ---
---
Downloads are also on the following pages
---