Welcome

NMA Memorial News
The Fleet Air Arm Memorial at the NRM is an Aircraft Carrier sourrounded by individual Squadron,Ship and Association plaques. Due to the popularity of these plaques the Fly Navy Federation took the decision to commission an extra ring of plaques. This should ensure that there are enough plaques available to last for a good many years. I am pleased to report that Cloudobservers was fully involved in this process and this has been acknowledged on one of the new plaques.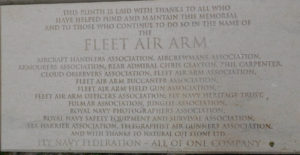 The Carrier was given a steam clean as part of the inprovements. Big thanks to Alan Breward for overseeing the work on site over the past few weeks on behalf of the Federation. The next two images show the new layout and spruce up.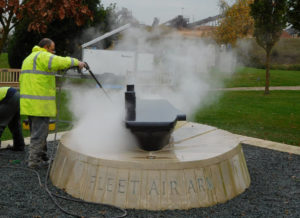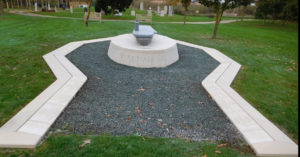 ---
Navy Wings
Navy Wings was launched by the FNHT (Fly Navy Heritage Trust)at Yeovilton Air Day, with the assistance of the author Frederick Forsyth.Navy Wings is an exciting development, which brings together the aircraft of the RNHF (Royal Naval Historic Flight) with civilian owned historic naval aircraft, ranging from biplanes to helicopters and the iconic Sea Vixen.
A brand new website www.navywings.org.uk has been launched, and all are requested to add a link to this on their own web pages or a like on Facebook, mention on Twitter etc would help. The FNHT website now only redirects to the Navy Wings site.
Good support for Navy Wings is essential for keeping the histori flight aircraft airborne as MOD funding reduces. Please encourage everyone to look at the site and to sign up as supporters if they are not already.

Christmas update
Please have a look at the Navy Wings website merchandise page, which has some good ideas for festive FAA gifts and beyond. Click on the picture for the link.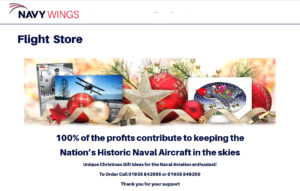 ---
Combined Reunions Update
Both the SE (RNSESA) and Phot (RNPA) Associations have agreed to go ahead with Joint Reunions. The First combined reunion will be in 2020 in Bristol hosted by the RNSESA.
---
Britsh Summer
September 2016 Porthleven
Colin and Jean Brenchley had another week in Porthleven at the end of September.
Wind on first two days was gusting force 9 – then the sun came out.
Note – The Met School is no longer – it has been demolished!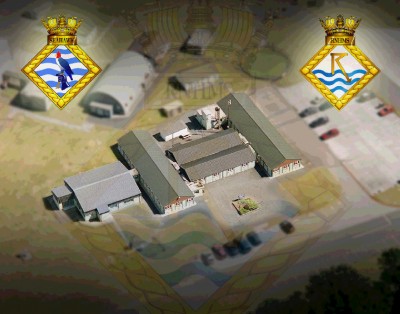 ---
Wrens Reunion May 2016 Helston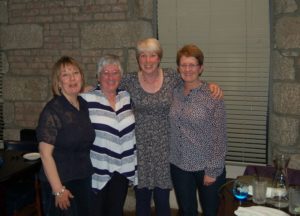 The picture shows two thirds of the June 1976 Wrens met course.They signed on at Dauntless on 11th May 1976 prior to joining the school.
L to R Caroline Bennett(nee Roberts) Denise Gleeson (nee Bucknall) Pamela Jamieson (nee Betts)Alison Wilde (nee Rowe)
A most enjoyable time with non stop remembrances of their time in the WRNS. They were also joined by Sheila Ashby and Caroline Reps(nee Hill)so a superb time with very special company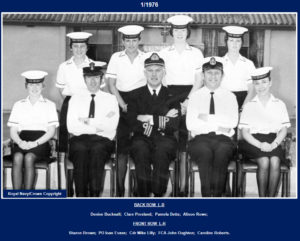 ---
HMS Curlew St Merryn 1950's
Does anyone remember a Wren Molly Atkin in the Met office1953 to April 1954? We were originally told that Molly served at Culdrose but her service records show as St Merryn.
Her Grandson is researching family history so would welcome any memories that you may have. If you know anything about Molly or even the workings of St Merryn (HMS Vulture 1940-1953) in the 1950's then please contact the webmaster.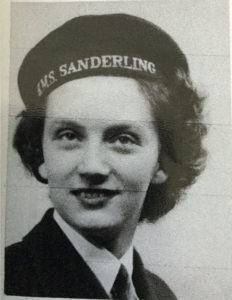 ---
Ratings Courses Revisited
Yet another Eagle Eyed member spotted a name error in Ratings Course photographs. Two instances were found and now rectified. No prizes on offer but can you spot the two changes? Those of you with a previous copy of the download have a distinct advantage!
Answers…..
---
Forum mortuus est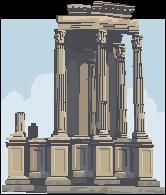 Back in April 2016 the company that operated the Forum on our and many others behalf was sold. Shortly afterwards it totally disappeared, taking all its records with it. This is not unique in internet history but still hurts those that suffer the loss. Fortunately for Cloudobservers, our use of the Forum had all but dried up and the Secretary had made paper copies of the good stuff!
BURSTING TO HAVE YOUR SAY OR SPIN THAT DIT? USE THE GUESTBOOK.
---

Yes folks Steve Howard is off on his travels again. As part of his preparation he has rebuilt his Travel Blog. For those of you who are not up to speed with Blogs, why should you be? A Blog is a techy term for a website that has pages as paragraphs but also contains pictures, links and videos. In other words its an electronic book or story thats been americanised!
Anyway just click on the banner above to visit Steve's Blog (website) where you can read about his trips to the US of A and Turkey. There are lots of photographs and videos taken by Steve and Rosina to keep you entertained and informed.
You will also be able to follow the intrepid pair on their current travels.
Bon Voyage!
---
The Old(ish) ad the New
Here's a wonderfully atmospheric look at HMS Glamorgan, as seen through the eyes of the (colour) Pathe news camera back in 1967.
Marvel at the computer technology… and the 'space age' soundtrack…not forgetting the Tot!
---
Navy Books
The latest catalogue from Navy Books contains a good selection of FAA/Aircraft Carrier books, some at bargain prices. HMS Hermes 1923 & 1959 a snip at £7.99, the younger brigade will be tempted by Harrier Carriers: HMS Invincible at a mere £4.99 and for the older reader there is The Colossus Class Aircraft Carriers 1944 -1972 only £7.99.
Their website can be found at http://www.navybooks.com/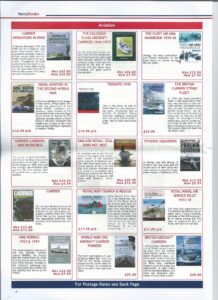 ---
Halfar and Kete memories
Brian Collins was a Killick Met in 1958, he was drafted to Halfar 1958-1960. Brian tells us that G A Bell, Bryn Telfer, John Randel, Pete Rossington, Dereck Marshall were some of the ratings that were also there during that time. The American base was down the road going towards Birzebuggia and they used to get all their flight briefings from us.
Brian trained at Kete in 1956. Pete Rossington was the kellick there at that time. The male ratings were outnumbered by Wrns, something like 2 to 1. You didn't have to wear your hat unless there was a reason to do so Divisions on a Friday was to the accompaniment of a record playing. The roofs of buildings were held down by ropes tied to metal spikes either side of the building.
On completion Brian joined the cruiser HMS Superb at Chatham, that went to the East Indies and was involved in the Suez Crisis The MET officer on board was LT Cdr Adams. Brian returned to Kete again at the end of 1957, that was when they were wanting ratings to change from other branches to MET.
All this history came about because the Halfar page contained errors which just goes to show how important it is to record facts before they are lost. If you have an anecdote about the branch then please get in touch. We do not guarantee it will be published, indeed some of the best material is from someone called anon. When we ask questions about the Met Branch the usual reply is…We were going to ask you!
---
Do names make us think storms are worse?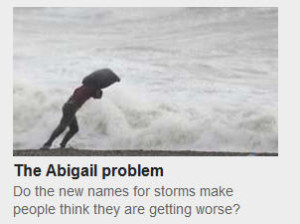 An excellent article by the BBC covers the subject of the Met Office experiment with naming storms. To view the article click HERE
We would be interested to hear your views and publish any that educate and amuse the viewers of this website. To start the ball rolling I take the view that there is a danger here, any depression that comes along will eventually get named so marine types will ASSUME that here comes another force 10 (i.e. Storm on the Beaufort Scale). What they might get is nothing to Gale 8 so the named Storm eventually receives no urgency. Then along comes the remains of Typhoon Fred, who we will call Samantha, and we all get blown away.
Climate change: 2015 'shattered' global temperature record by wide margin
Thus shouted the headlines from the BBC
"The Met Office figures show that 2015 was 0.75C warmer than the long-term average between 1961-1990.
US data suggests that 2015 "shattered" the temperature record by the widest margin ever recorded.
Experts say the record temperatures were due to a combination of El Niño and human-induced warming."
The full article is available at http://www.bbc.co.uk/news/science-environment-35354579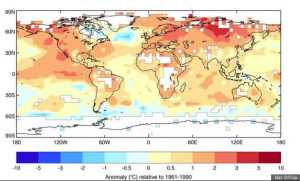 By ED
This website is no place for Climate change debate but I, along with others do treat such headlines with interest and scepticism in equal amounts.
Let us hope that unsullied data supports the arguments. I am ever mindful that the Met Office also proclaimed December 2015 as the wettest December on record 230mm of rain 9in.
The Met Office own data actually shows that December 2015 was the 20th wettest since 1766 as reported in the Sunday Telegraph of 10th January 2016. No consolation to those poor folk affected by flooding.
---
---
A Christmas Chart
Here is a blast from the past in more ways than one. Members who worked East of Suez, afloat or in COMFEF will be reminded of times past by this one. Here we have a Double sided Met Chart, B148 India to New Guinea. The chart is blank on one side but plotted and drawn up on the other.
The chart is valid for 0001Z (0730 Local time) on 24th December 1964. It was plotted on board HMS Victorious when alongside the Singapore Naval Base for the Captains briefing. The neat plotting was probably the work of Tim Preston, the Christmas artwork by yours truly.  By the spread of the synops it looks like a COMFEF Fleet Broadcast was used.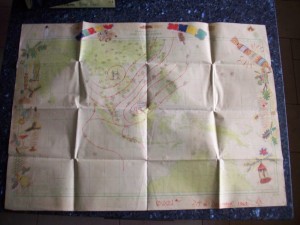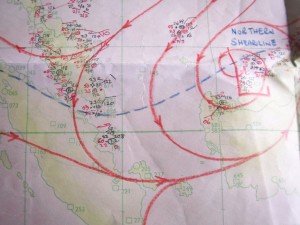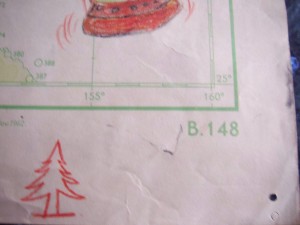 ---
Weather Watchers?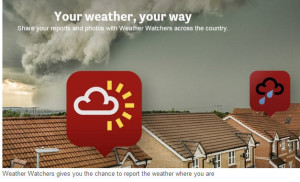 My local BBC regional news often includes a weather picture taken by a local as part of the weather forecast or the news if a weather related item is included. It now seems that the BBC has taken this a step further, not only does it want your seasonal pictures but also up to 10 weather reports from you as well. No training required, no instruments just you, a camera and a mk1 eyeball is all that is necessary however, if you do happen to have an instrument or two then your report card, you are allowed up to 10 per day, can be adjusted to include additional data. The reports may be used by the BBC and the resulting picture looks like the output of some dodgy app on a mobile phone.
Here is the chart for the last three days, anyone fancy drawing it up or summarising? Perhaps this is how the money will be saved when they kick the Met Office into touch!

---
South Asia monsoon: Analysing fresh water could be key to forecast
The Indian Ocean contains a distinctive layer of fresh water from rain and rivers which may influence the South Asian monsoon, scientists have said.
They are urging meteorologists to include the less saline water in their weather forecasting models.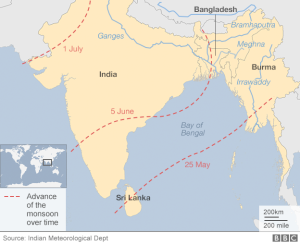 For the full article go to:
http://www.bbc.co.uk/news/science-environment-33479507
Anyone got a spare Bathy in the loft?
---
FAA Watch Offer
BREMONT FLEET AIR ARM SPECIAL EDITION WATCH. This is a unique opportunity to purchase an exclusive high-end timepiece, celebrating the Royal Navy's finest fighting arm. In support of the Fly Navy Heritage Trust, Bremont have developed a version of their U2 Watch which has a blue strap and face, with the FAA Wings and a subtle FAA Zig-Zag engraved into the face. There is also a choice between a blue or a green (for the Junglies amongst you) barrel. This watch is only available to Serving FAA members and FAA alumni. To maintain this exclusivity, proof of service will be required before the order is confirmed and the purchaser's official number of up to 8 characters will be engraved on the back. Orders are direct to military@bremont.com . More details are attached and available at http://www.fnht.co.uk/bremont-fleet-air-arm-special-edition-watch.html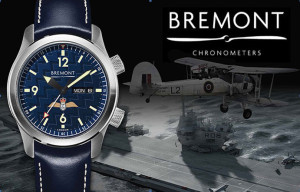 ---
Dockyard Dandy
Here is a link to the online versions of Navy News for August, september and October 2016.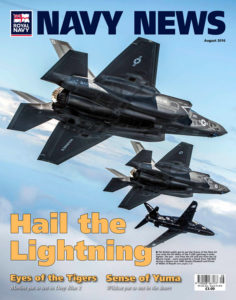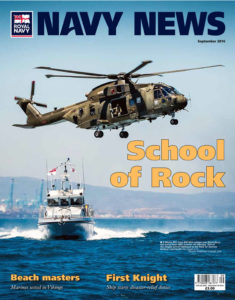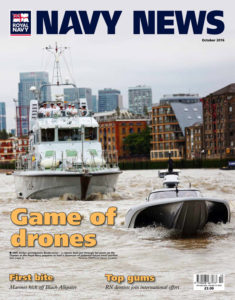 ---
---
Downloads are also on the following pages
---