National Memorial Arboretum Alrewas
I am delighted on behalf of our Association to confirm that the Met Branch Memorial Plaque is now in place as a part of the Fleet Air Arm Memorial.
Your generous donations allowed us to pay our share of the future maintenance of the monument and to have the plaque manufactured and placed in position.
Your plaque is located Starboard Side of the monument in the Bridge area as we feel that was the location of most onboard Carrier Met Offices.
I trust that it will be a lasting reminder for the future.
Arthur (Charlie) Charles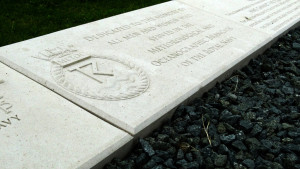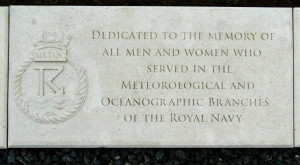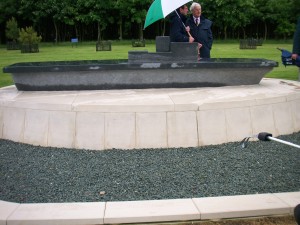 ---
L to R - Arthur Charles, Colin Brenchley and Peter Squibb meet up at the NMA. Pictured in front of the Fleet Air Arm Memorial
Ceremony of Dedication of the Aguila Memorial. 21 Wrens and 1 Naval Nursing Sister were lost when the SS Aguila was torpedoed on 19 August 1941
Gill Charles, Mairi Squibb and Jean Brenchley stand next to the Aguila Memorial in the Wrens garden
The new FAA Memorial at the National Memorial Arboretum in Staffordshire was dedicated on 11th September 2009. Our thanks to Diane Horgan for sending this picture for us to share
Mini reunion at the National Memorial Arboretum - 25 April 2009. From left to right Gill Charles (Wren Comms), Mairi Squibb (Wren Telephonist) and Jean Brenchley (Wren Met Observer) stroll through the Park with the main Memorial in the background
The Memorial is dedicated to those servicemen who died whilst serving their country since the end of the Second World War.
NMA - Left to Right, Peter Squibb, Arthur Charles and Colin Brenchley
Mini-reunion on 25 April 2009 at the National Memorial Arboretum. The picture shows ex Wrens (LtoR) Jean Brenchley (Met Observer), Gill Charles (Communicator) and Mairi Squibb (Telephonist). The link between them is that they are all married to ex Met Ratings and all served at Northwood at various times.
The National Memorial Arbotetum in Staffordshire which remembers those servicemen who have served in the Armed Forces since WW2. The memorial on the left commemorates all personnel of the Combined Services Task Force who have served during the nuclear tests on Montebello, Emufield, Maralinga, Christmas Island and Malden Island between 1952 and 1966. It should be noted that personnel from the Meteorological Branch served on some of these postings
Click the banner below to visit the NMA Website
More pictures are to be found on FACEBOOK