HMS Hermes
Happy Hermes lives on
Ex-HMS Hermes R12 to be turned in to museum ship in India
Ex-HMS Hermes R12 to be turned in to museum ship in India
INS Viraat, formerly HMS Hermes R12 and currently the oldest operational aircraft carrier in the world, will soon be converted into a museum ship. The Andhra Pradesh Tourism Development Corporation (APTDC) authorities have received an in-principle approval from the Ministry of Defence to begin work on converting the Centaur-class light fleet carrier into a museum in 2016 when the vessel is due to be commissioned. The warship will be docked at Kakinada port in Andhra, Eastern India to serve as a tourist attraction.
HMS Hermes was launched in 1953 and served the Royal Navy for 34 years before being sold to the Indian Navy as INS Viraat in 1987. During its time with the Royal Navy the vessel served first as a conventional carrier then as a commando carrier operating helicopters and then finally as a V/STOL carrier operating Sea Harriers. It was in this last capacity that the ship served as flagship of the taskforce that liberated the Falkland Islands from an Argentine occupation in 1982.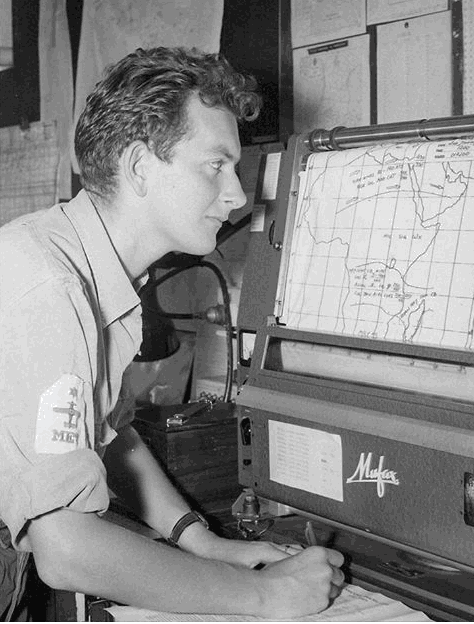 It is likely that APTDC will concentrate on celebrating the vessel's service with the Indian Navy but hopefully they will pay tribute to the vessel's pivotal role in the 1982 conflict as well.
NewsItem from Defence of the Realm.https://defenceoftherealm.wordpress.com/
HMS Hermes alongside in Devonport 1966
Ian Plackett and Colin Brenchley pictured at the reunion in Portsmouth in 2009 trying to remember how to operate the Assmans Aspirated Psychrometer Mk2 !!! The teenagers in the B and W photo are the same people 43 years earlier in 1966 on board HMS Hermes. At foot of page Mick Johnson is also photographed on board Hermes with a Psychrometer.
HMS HERMES - Commissioning Ceremony - Devonport - 1966. Left to right in the picture are LA (Met) Peter Lonsdale, NA (Met) Colin Brenchley, John and Kathleen Brenchley, NA (Met) Don Walting, NA (Met) Tony Newrick and his wife.
Met Office HMS Hermes 1966 - NA (Met) Colin Brenchley is plotting a weather chart being closely supervised by LA(Met) Pete Lonsdale. The trimmings in the Met Office were all a shade of blue as Pete was a fanatical Everton supporter.
HMS HERMES 1966 - NA (Met) Don Watling at work plotting in the Met Office which was situated on 04 Deck. We were all fit in those days!!!
This image sent to us by Ian Plackett is of Tony Newrick who was the LA (Met) on Hermes during the late 60's
HMS Hermes Met Team 1967 Back Row L to R NA Colin Brenchley, NA Ian Plackett, NA Iaon Evans, LA Tony Newrick, NA Derek Kuziw,NA Don Watling. Front Row L to R PO Pete Lonsdale, Lt Cdr David Newing, Cdr Derek Blacker, Lt Cdr Keith Statters, Lt Inst ??
Christmas at Sea 1967. Although there was never much space for your kit there always seemed to be space found to stow a silly hat for use on these occasions! The picture has four Met Staff Left to right LA(SE) Rab Williamson, Colin Brenchley, Ray Brooker, Steve Howard with Ian Plackett in the front. The picture was taken on the Far East Station which is confirmed by the tins of Tiger! The occasion was that 4H2 Mess had just won a crate of Tiger for the "Best Decorated Mess" on board. Christmas was celebrated at anchor off Oman in a Sandstorm.
RAS - Replenishment at Sea. The Wessex from RFA Regent brings stores across to HMS Hermes (circa 1966)
Sea Vixen of 892 Squadron launching from HMS Hermes (circa 1966)
One for those discussing the various "cabs" on the Forum. A visiting Bucaneer on HMS Hermes circa 1966. (photo Colin Brenchley)
A Fairey Gannet from 849 B Squadron prepares for launch from HMS Hermes - circa 1967 - photo by Colin Brenchley
Sea Vixens of 892 Squadron lined up on the forward part of the flight deck after landing on HMS Hermes (circa 1966 photo by Colin Brenchley)
Buccaneer lands on HMS Hermes
HMS Hermes enters Sydney Harbour in October 1968. The now famous Opera House in the background was still under construction at the time of this visit.
Mick Johnson on HMS Hermes with an Assmann Aspirated Psychrometer. The one procedure I remember is that you had to let the instrument run for 7 minutes to let the thermometers settle. Whilst this was OK in the tropics it was not such a good job in the North Atlantic in a gale in winter!