Royal Navy Mobile Met Unit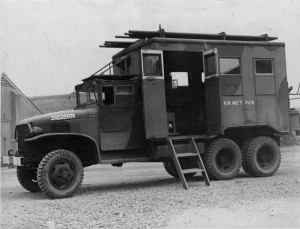 Although Mobile Met Units still exist today, they are a very different animal to that which first came to prominence during the latter part of World War Two.  Whereas today they are part of the Met Office and are staffed by their own people and RAF Reservists, originally it appears to have been an integral part of the RN Met Branch and used as a stand-alone unit.  It was established in a converted US lend/lease communications lorry – converted yet again to become something similar to the Met Office on board an aircraft Carrier.
Once fitted out the lorry was staffed by two officers and three ratings.  As far as possible the ratings had to be trained in WT and capable of receiving their own messages, as the office was also fitted with a receiver.  Research has not been able to discover that there was ever more than one unit and the photographic evidence available is of the same lorry which seems to confirm this.
There is documentary evidence that there was an MMU operating in Europe in 1944/45.  This appears in a document written by the first Director of the Branch, L G Garbett, who recorded that on 1 February 1945, a mobile met unit returned to the UK from Brussels.  The role played by this MMU is unspecified, but, what we do know is that the unit reached Brussels from Rouen via Calais before returning to the UK.
It appears to have been established as a unit in 1944, possibly at Lee-on-Solent, but whether as a single unit or as one of many is uncertain.  What is known is that the lend/lease lorries came over from the US in 1943 and that the MMU or Mobile Met Van was an established entity by May 1944.  It is on record that "Lt Fulford's met lorry visited Naval Met Branch (NMB)" on 9 May 1944.  On 31 May of that same year a series of photographs were taken at Lee-on-Solent.
It has proved impossible to trace the reason for the trip to Western Europe, and too much speculation may only give a false impression.  It is possible that a reference to a description of a Mobile Naval Met Van in a Periodical Letter – forerunner of the Directorate newsletters – may yield further information.  Sadly, despite extensive searches and enquiries, issue 1944b has proved to be elusive, so the full story may never be known.
Photographs – Capt Dick Abram for the original photograph which started the trail.
Fleet Air Arm Archives, Yeovilton for the four subsequent photographs
Dal Brown for the MMU today.
.