Met Branch watering holes - the following has been penned by Jean Brenchley.
The Halzephron
To celebrate my initiation into the 3rd age we took a trip down memory lane and visited Cornwall, staying in a hotel overlooking St Michael's Mount in Marazion. Whilst there we visited my old haunts - the main one being Gunwalloe Towans or Church Cove as it is known locally. I can't believe how fit we used to be in those days, walking five miles each way from Culdrose!
One particular memory of Church Cove was when the Met School organised a summer BBQ on the beach. Everything was going well until it got dark and the fire died down ... then we realised that nobody had packed a torch and there was no moon!!!
Another memory of time spent at Culdrose was the many hours walking to the local country pub, The Halzephron, the return journey taking considerably longer after copious amounts of Barley Wine! We therefore had to visit this pub again for old times sake.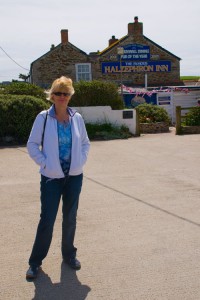 Whilst having lunch there an elderly gent walked through the bar. As he looked a bit familiar to us we made an enquiry with the bar staff and they confirmed that it was indeed the old Landlord, John.
He was well known by the both the Tower and Met School staff in the 60s and 70s for serving beer straight from the barrel and offering an extensive range of crisps for those wishing to dine!
I don't know what I had done in the past but when John came over to chat he immediately pointed to me and said "You were a Met Wren". Now in his nineties he still remembers the names of many of the Met Staff that had worked at Culdrose.
It was certainly a delight to reminisce with John after nearly forty years and whilst the pub has undergone a lot of changes it still has the old charm. John delighted in telling us that his range of food has now expanded from the selection of crisps to a great choice of fine Cornish dining!