Cloud types for Observers?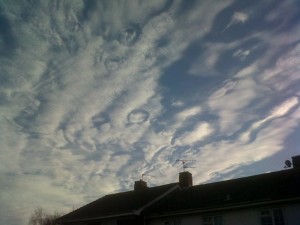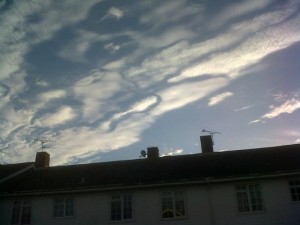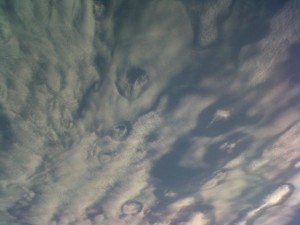 Mick Johnson was sent the three cloud photographs above. They remain Copyright to M Leahy and were taken mid afternoon on January 14th at Barnham West Sussex. I have attached the Met Office chart for 0001Z on 14th, the Low and wave were all generally moving SouthEast if that helps.
So then, what is it? why is it doing what it is doing. All comments from our experts gratefully received. No prizes but plenty of street cred for the wittiest or most scientific answer.
Being a branch of meteorologists, it seems appropriate that we should have a page dedicated to – yes – the weather. Here you will find useful links to sites giving forecasts using charts and in tabular form. The page also gives us the opportunity to advertise the commercial met. ventures of some ex members of the branch. Should you know of somebody we have omitted please let us know.
***The Weather Club***
Below you will find details of the newly launched 'Weather Club' which is backed by the Royal Meteorological Society (RMetS). The club was launched in September 2010 by the RMetS as a public outreach arm of the Society itself. The reasoning was to enable anybody with a keen interest in weather to become part of a community where it is celebrated. If anyone is interested in becoming a member details may be found by following the links.
Membership is £25 per year and includes a free Galileo thermometer, a quarterly magazine called 'theWeather', full access to website content, weather forums and a great range of discounts on weather related products, weather postcards, a collectable A-Z of weather and a membership card.
More detail on the Club can be found here http://www.theweatherclub.org.uk
Image of the day from NASA Earth Observatory
Unable to display feed at this time.
NASA Earth Observatory Natural Hazards
Unable to display feed at this time.
Facts you may find of interest

High C
The highest recorded tempurature in the UK was recorded at Brogdale, Kent on the 10 August 2003 was 38.5 deg C
Low C
The lowest recorded temperature in the UK was recorded at Braemar on 10 January 1982 was Minus 27.2 dec C
Gust
The highest gust of wind recorded in the UK was at Fraserburgh on 13 February 1989 - 123 knots!

UK MET OFFICE - Latest Observations from around the UK regularly updated by the Met Office

UK MET OFFICE - Weather Radar Image
© Logos for Weather Commerce and the Met Office are both used with permission of the copyright holder.

DUNDEE SATELLITE RECEIVING STATION - Current satellite images of the UK. Click on the image to visit this site thanks to the support of the Dundee Satellite Receiving Station. Many of the members of the Met Branch will remember the images received from this site in the 60's when they were at the forefront of monitoring images from Meteorological Satellites.
Its 1st November 2010 and the Chair and TSB are driving home through the Newark on Trent traffic, town centre, you get the picture? Chair say words to the effect "Rain coming, look at that big contrail up there, it's spread out but not dissipated", handbrake on. Next thing he knows the passenger door is open and TSB has become a Phot. Traffic impatient, photograph taken, the car is now again proceeding home complete with the two loons inside. If we can do it - so can you!

The Arizona Hail Storm

Most of you must have seen the entry on the guestbook by Janet Jaehne describing the hail storm where she lives. We now have a piece of video footing showing just what she was telling us about. It was taken on Tuesday 5 October 2010 in Glendale Arizona and near to where Janet lives. We also have a short account from Janet of the storm and how it affected her personally.

In Janet's own words:-

Our home page is MSN.com and the video appeared on it, so it has been around, no problem with posting it - I'm sure the members would enjoy it. It was quite frightening being preceded by ominous looking clouds, rather like a cloud tsunami! I posted comments shortly after on the Cloud Observers website, not really knowing the extent of the damage at that time.

We spent a couple of days cleaning up shredded landscaping, trees, bushes, etc. (no pool), replacing a bedroom window and insect screens, and now must have our roof replaced. This will take a while as our insurance company informed us they have over 9,000 claims in the Glendale area (and that's just one insurance company!) Our pick-up truck, unfortunately, was in our driveway and not in our garage, so received quite a few hail dents! This also has to be repaired - could have been worse, but have Chinese elms in our front garden which sheltered it.

Apart from this, yes, we are well, amazing that no-one was hit by this gigantic sized hail, reported to be 2-1/2 - 3". By the way, we found a piece in our bedroom this size, looking like a Christmas ornament, quite beautiful really, in spite of all the glass and debris from the smashed window! One of our cats, poor Simba, was found cowering in the back of our closet, but he was OK.

Misty Morning in Bermuda – Dorothy Woolgar forwarded this article link from the Bermuda Royal Gazette. Article

UK Sea Level Pressure and Fronts
Perks of the job.....
This Weather Widget is provided by the Met Office
http://www.weathercharts.net/northwood-analysis/northwood-analysis-0000z.png